My illustration class is going swimmingly. I thought I would take you (my minions) through parts of my creative process. Please drink a lot of coffee, take some Xanax and enjoy the ride:
WEEEEEEEEEE!
THUMBNAILS TO TENTACLE
Deciding upon the one deadly sin was not difficult. Lust seemed like a decent choice open to all kind of creativity. Plus, I figured that I would not draw a rabbit of any kind. The project turned out to be more of a challenge than I expected. I was originally shooting for an HR GIGER pinup type of girl.
NOT A GIGER BUT LEAVES ME FEELING
JUST AS CONFUSED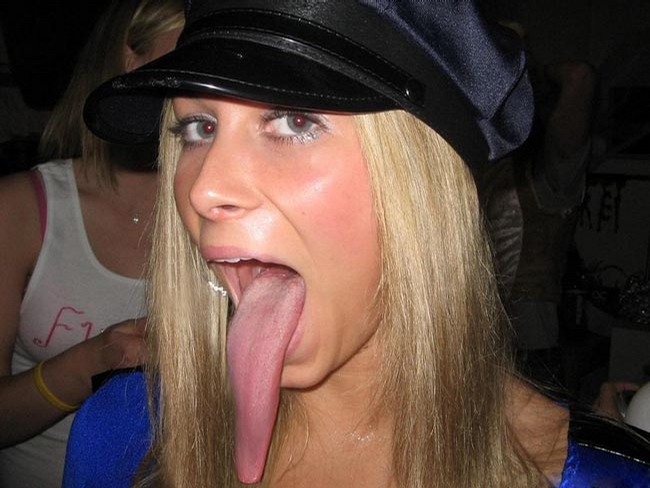 I GOOGLED "LONGEST TONGUE" -- NOT FOR THE PROJECT,
JUST BECAUSE IT'S WHAT I DO. AND WOULDN'T YA KNOW IT
IT INSPIRED ME.
I rendered my new thumbnail in half size then did a morgue sketch to work from for my illustration. All the time I am spending much time avoiding the task at hand (ergo the GOOGLING) -- staring at my wall (I don't know what that one spot is), watching Law & Order, walking around downtown hoping to capture the city's yummy goodness on my digital camera (which I did and will be blogging about why Toledo, Ohio can't have nice things at a later date...)
THUMBNAIL TO HALF SIZED GOODNESS



MODEL
I did not want to go any farther. I rather admired my smokey-eyed-long-tongued lass. I made the tattoo smaller because... well... I'm lazy. I didn't feel like drawing it all out. The next step was to scan the above and render in Illustrator. I realize many people love the trace tool. I, however, do not. I used a combination of CALLIGRAPHY BRUSHES with edited angles and sizes with some WACOM brushes.
FIRST VERSION
LIKE A BOSS
The woman was horizontally flipped in order to have the tongue reminiscent of a question mark... I added stars for two reasons: one, it is symbolic of lost souls and two, there is a really cool TINY STARS scatter brush in Illustrator.
I had to add a tentacle somewhere because I am good that way:
MY HOMAGE TO SHOKUSHU GOUKAN
COLOR MY WILL GOOD
The next step is to add color. I floated around the world wide webs looking at color trends in design and fashion. I will never be the same. I will also have to make a trip to Good Will if I wish to be "color ready" for this color season. My wardrobe consists of T shirts and jammy pants -- none of which are the cool blues/greens or warm reds/oranges that will be flooding the runway and industry!
I SHOP HERE
My latest renderings are as follows:
COOL CONCUPISCENCE
LAVENDER LASCIVIOUSNESS



COMPLEMENTARY CARNALITY
Although I gravitate to the first design, I believe the last is the strongest. It's the hair. I think because I was once traumatized by Ronald McDonald. I was 15 years old and attending a parade that my adult sister was marching in. The Grand Marshall was... Ron. I can call him "Ron" after said event. He saw me standing at the side of the street. He smiled. Then, I saw his big red shoes make their way over to me. MY GOD. He slinks up beside me with a, "Heyyyyy - " Before he got to the secret ingredient of his special sausce, I said, "I'm 15." All of my dreams of being Mrs. McDonald were CRUSHED.
YOU ARE ONE HOT HAPPY MEAL, SISTER
Stay tuned for next week's episode when I reveal
TEXTURES
.
THE END
SHATTERED DREAMS