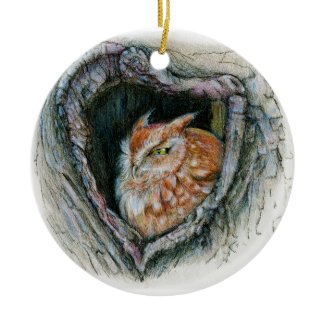 WHO DO YOU LOVE? ORNAMENT
I love this ornament. I love the shape of the moon holding the red screech owl. The image is on both sides.
Owls are special creatures in my family. I tend to relate the screech owl to my sister. Upon her passing, I saw a momma owl with her owling. They landed not 5 feet away from me, she hooted, I stood there looking for what seemed forever. Then, off they went. She was magnificent.
I love the look of peace here -- yet, she seems to be standing guard.